So, it's been all quiet on the coupe quattro front lately. Little bit of driving, little bit of wrenching, and a whole lot of work in and around the house.I've been driving the car here and there and it's been running well. I had it out to Miller the other week, and got a few laps in. I was out beating on it the night before, and the car starting making some clunking noises…turns out I lost a motor mount screw and one side of the motor had a couple inches of vertical freedom…No permanent damage done…Anyway, stock brakes are not really holding up to the power. No big surprise there. BBK is on the list, as is the 5 lug swap. The car has is now beyond the non-running project to all those little 'wants' that ensure a project will never really be 'done'.
I installed the RS2 mirrors and lights that I got from a forum member. I'm still waiting on the mirror seals, as they are not the easiest part to get on this side of the pond.
The RS2 bases do not fit the CQ doors without some work:
Marked off and ready for a bit of grinding with the Dremel:
RS2 mirror mounted (sans gasket):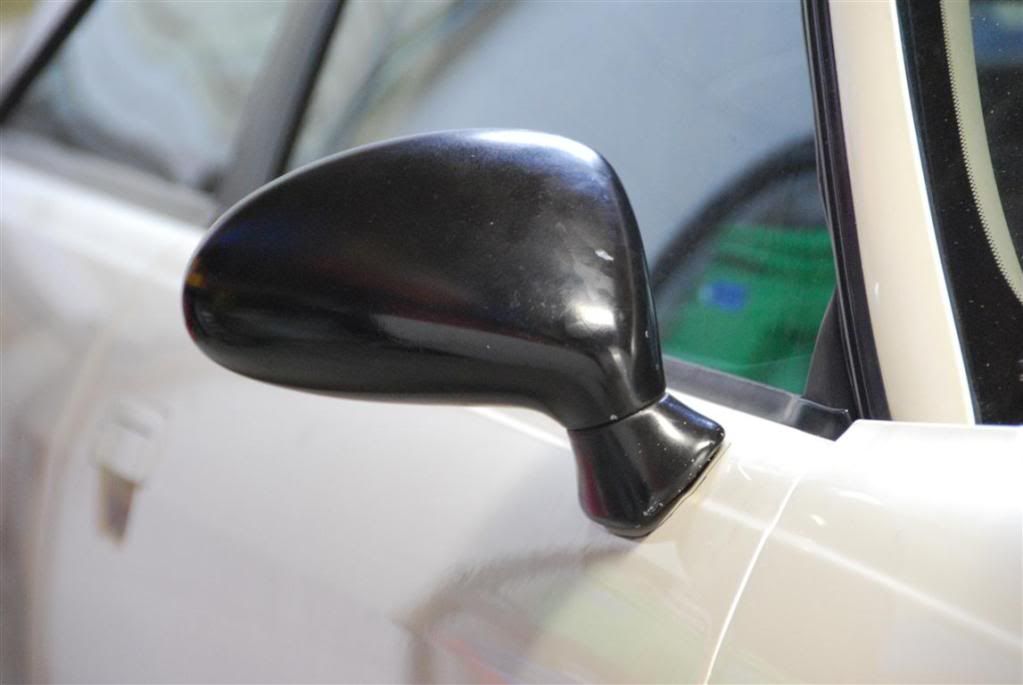 RS2 ellipsoids mounted. I also installed some UV stabilized 3M film over the front of the lenses to protect the investment:
Some things that I will be tackling, hopefully most of which will occur before BBQ2011…
1. Weld in strut tower braces and install braces
2. Repaint the front DS fender, front and rear bumpers, RS2 mirrors, strut towers, old battery location
3. Install and relay HID's
4. Radiator shrouding (runs a bit warm sometimes, may need to replace main/aux. radiators as they are original from the car. Cooling efficiency of them is highly questionable)
5. 5 lug swap with home brew BBK
6. Auxiliary coolant pump (weeping occasionly)
7. Adjust exhaust – low priority for now
8. Examine/Repair Autocheck/Tachometer glitchiness
Between becoming a backyard farmer, and gathering parts and doing some work on the other project, it will be a challenge to get this all done. Granted, most of these are more 'wants' than 'needs', which is both nice and…dangerous.
Took a drive up the canyon last night…Mt. Superior in the background, which is across the road from Snowbird/Alta…The snow is melting fast!!!