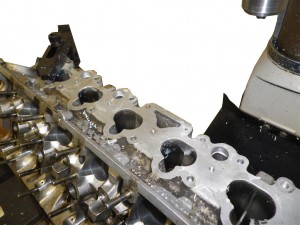 As the Audi R5 20VT engine gets older and older, crack and damage-free turbo cylinder heads are becoming more rare and consequently more expensive. Because the original 20VT engine was found on very few cars in the USA (3B: 1991 200TQ, AAN: 1992-1995 S4/S6), an alternative is to use the 7A normally aspirated 20V head to rebuild your engine. These are typically less likely of having the typical cracks around the valve seats and plug holes that the 3B/AAN heads may have. The downside is that the 7A head, although made from the same casting, did not have some of the features machined as the turbo-spec head. Here at BE, we have gone through all of the work to set up the CNC programs and angled fixtures required to machine the turbo-spec features. You send in your bare head to have the porting and/or tapped holes machined to ultra precise tolerances on our CNC machining center.
Cylinder heads must be provided completely disassembled (no cams, valves, or exhaust manifold studs) as some of these parts can interfere with the precise setup and fixturing of the cylinder head in the CNC machine. Cylinder heads will be rinsed of metal chips and coolant/lubricant residue, but will still require more thorough final cleaning by the custom prior to assembly.
We also have many 7A cylinder head cores to use as a basis for starting your project! Rebuildable cores are available for an additional $399.99.
7A cams are also available for an additional $249.99.
Please contact us for shipping rates if you are planning on shipping the cylinder head to us, or if you are interested in one of our cores and need to have it shipped.
Please select from the available options below.
Sku

AUD-520-001

Description

Head Machining - Audi I5 20V Turbo Spec. Water Porting

Product Options

| # | Option | Price |
| --- | --- | --- |
| 1 | Water Manifold Machining Only | $199.99 |
| 2 | Additional Tapped Holes for Exhaust Manifold | $124.99 |
| 3 | Both Water Manifold and Exhaust Manifold Machining | $274.99 |
| 4 | AAN Cam Sensor Mount | $149.99 |
| 5 | Full Late Spec Treatment (Cam, Water, Exhaust Mods) | $399.99 |

Additional Options

7A Head Core Charge


| # | Option | Price |
| --- | --- | --- |
| 1 | 7A Head Core Charge | $399.99 |